Machine for pre-cooked fresh pasta and ready meals
The complete lines and machines for fresh, pre-cooked pasta are engineered and manufactured to be used in various productions, such as fresh and frozen products destined to restoration and food service as well as ready meals.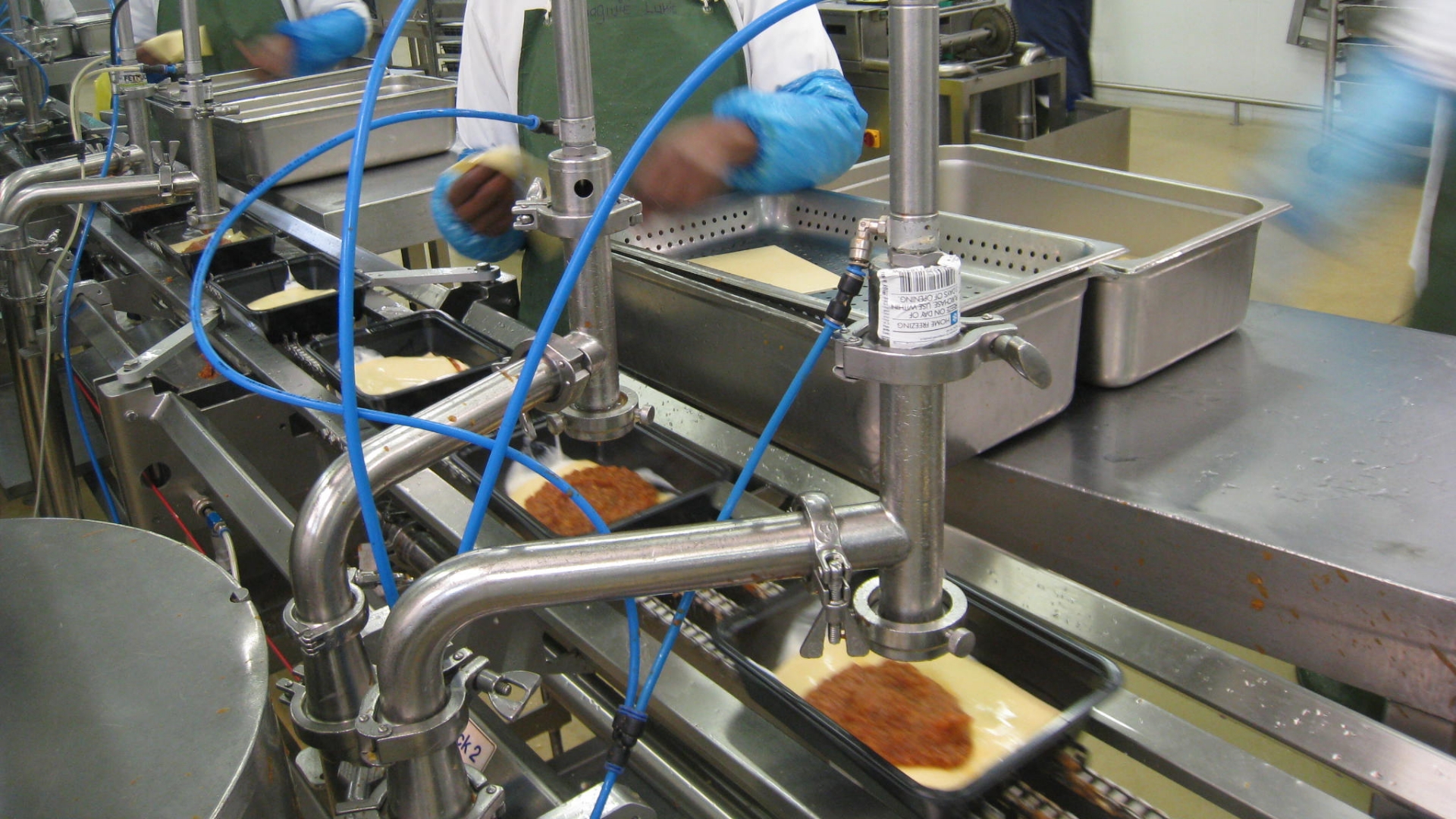 Description of the machinery making up the line
The kind of cooking lines we propose enable to obtain either various or specific products.
The "multiple" production lines enable to cook in boiling water and then cool down any types and shapes of product: filled and unfilled pasta, long fresh pasta, dry pasta, frozen pasta, gnocchi, sheet-pasta for lasagne and cannelloni. Thanks to their versatility said plants can be used also for cooking vegetables, legumes, potatoes etc.
Furthermore, we manufacture lines dedicated to exclusive productions such as cooking of the sheet-pasta for preparation of lasagne and filled cannelloni as well as machines and special equipment for specific treatment or portioning requirements. All our machines, conveyor belts and complementary machinery are made in AISI 304 – or, upon demand – AISI 316 stainless steel coupled with certified plastics suitable for contact with foodstuff. This also enables full washing and sanitation at the end of every production cycle. Cannelloni are obtained by pre-cooked, sheet-pasta that is filled and rolled up before being cut by the exclusive guillotine cutting device that ensures neat and precise cut without crushing the product.
The cannelloni-cutting device can be coupled with various types of filling pumps for dosage of high quantities of filling, that can even consist of small bits and pieces. The pre-cooked sheet-pasta for cannelloni is used also for preparation of lasagne; at outfeed of the cooker before the cutting phase the sheet of pasta is soaked in a cold water bath blocking the cooking process, thus enabling scraping operations and removal of the surface starch.
A simple cutting device enables to obtain portions of pasta suitable for three different usages:
On line freezing of the pasta sheets before packaging.
Piling up of the pasta sheets on more layers with juxtaposition of polyethylene sheets before packaging.
Using the pasta sheets for ready meals.
Together with the cooking lines we proposed tested lines for ready meals with real time control of all working operations, including shape changing and production load phases. The dosing devices for sauces, cheese and hot products (meat sauce, béchamel sauce, etc.) by lobe pump located on one side of the main conveyor belt ensure uniform and homogeneous filling of the tray.
Thanks to the new robot-line featuring more working posts, laying of the cannelloni and of the multi-layered lasagne with various sauces and cheese into the trays can be obtained fully automatically.
Thermal treatment technologies
After production the next step is the choice of shelf-life and preservation of the product. A very widespread method ensuring longer shelf-life is deep-freezing: besides ensuring optimal stability the product freshness remains unaltered for a long time.
Description of machinery and processes for the heat treatment of fresh pasta
However, when speaking of fresh pasta we usually mean a limited, medium-preservation product, pasteurized and packaged in protected atmosphere (MAP / ATM). The hydro-thermal treatment technology for fresh pasta, which is required for eliminating or reducing to the minimum the proliferation of bacteria, that Italpast have developed in more than 30 years'
activity and experience is certainly a guarantee. Pasteurizers running by saturated or overheated steam supply steam in a uniform and direct way all over the product so as to reach the ideal treatment temperature, which changes depending on the time and temperature values set by the operator. Pasteurization by overheated steam enables to obtain relatively low
humidity conditions, less damaging to the final quality of the product. Pasta undergoes also a drying phase to reach cooling and stabilization before packaging. We have manufactured new, multiple-tier machinery featuring more belts for pasteurization and
pre-drying of the product on more levels. The complete series of steam flux adjusting devices, which is controlled independently over and below the pasteurization belt, the micro-perforated distribution plates, the excellent insulation in rock wool, the care of construction details such as the exhaust caps and the washing basins: all this makes these models functional and reliable.
Our machines for pre-cooked fresh pasta
Contact us
Ask for an advice to our technical Experts to implement the most suitable line for your needs
Via G.B. della Chiesa, 10
43036 Fidenza (PR) – Italia
Strada Repubblica, 41
43121 Parma – Italia