Different long fresh filled pasta production lines can be supplied depending on the desired type of product. If the product is obtained by sheet pasta then the first choice to make is following: shall the sheet be laminated or extruded? As to this issue there are many different ways of thinking: structural difference is evident as well as organoleptic qualities, but the choice is up to the market, i.e. to the consumers. 
Italpast is in a position to propose a wide range of Sheeters to produce laminated sheet pasta featuring suitable width for any uses, from 250 mms. up to 1000 mms., suitable for coupling with single-sheet Forming machines, double-sheet Ravioli machines, laminating lines for tagliatelle, lasagne, cannelloni. Our Extruders featuring output from 100 Kg per hour enable production of sheet pasta to be coupled with any Forming machines for production of filled pasta of any sizes. The sheet-pasta tensioning device enables automatic coupling of each Sheeter or Extruder to the corresponding Forming machine.
Depending on the type of filling used the machines are equipped either with screw- or lobe-dosing Pump: this machine operates independently, so it can be easily removed to enable washing operations at the end of production. The sheet-pasta scraps obtained from filled pasta moulding are collected and then pneumatically transferred to the mixer, to be put back into the dough mixture. 
The moulded product, which is collected from one or more Forming machines is transferred to the following pasteurization phase by means of a series of conveyor belts. As far as production of unfilled pasta is concerned, besides all those products obtained with sheet pasta, also the most varied short pasta as well as long pasta shapes (e.g. spaghetti, linguine, bigoli, etc.) can be produced. Sheeters, Extruders, Ravioli machines, Forming machines for cappelletti and tortellini, Lasagne machines and Nesting machines must always be integrated in the line production process with a view to ensuring the highest efficiency, flexibility and reliability.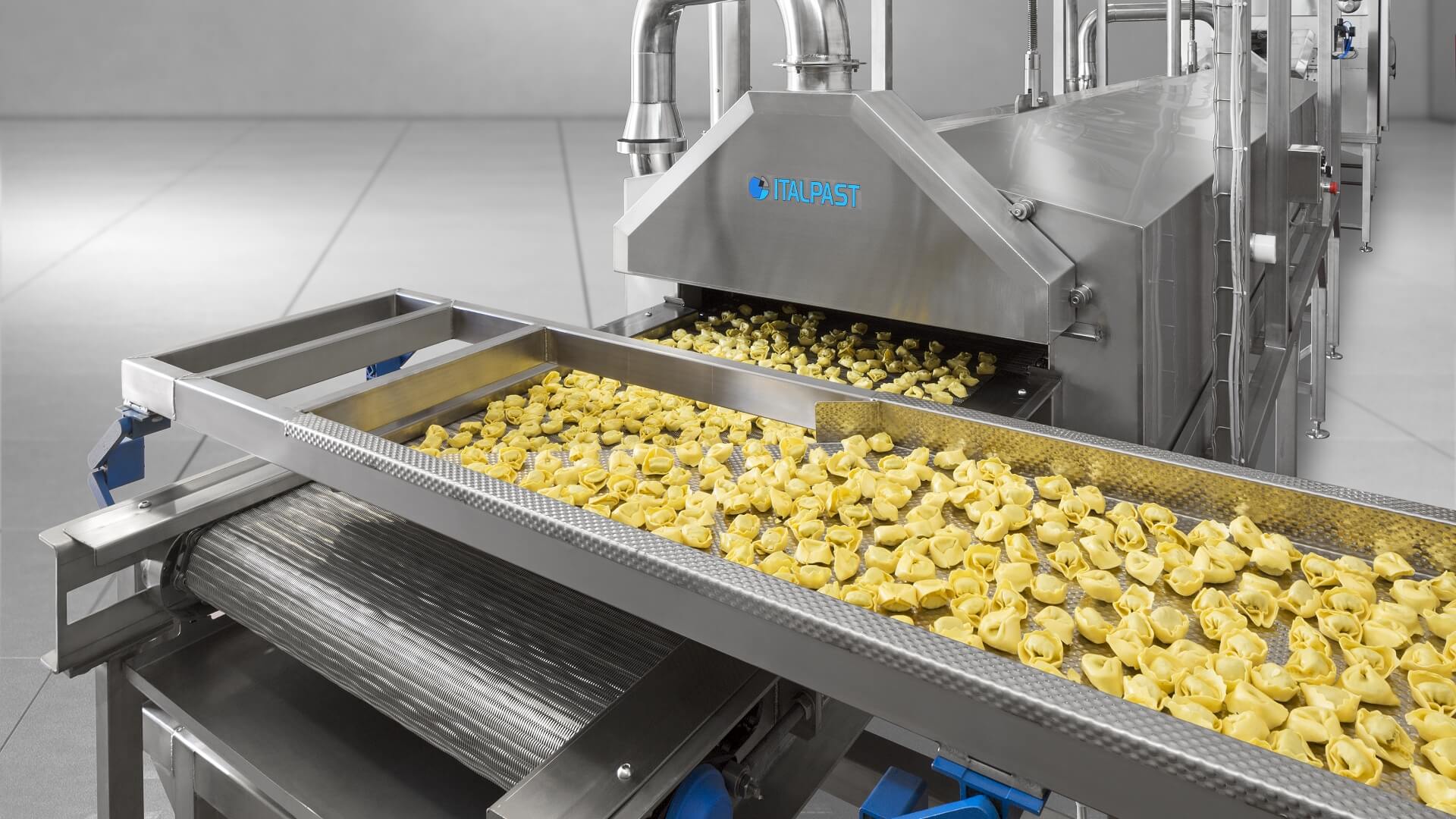 High-performing and modern conception plant for the production of double-sheet ravioli up to 800 Kg/hr fully automated composed of: dough preparation Group, double-outfeed automatic Sheeter, Ravioli machine with interchangeable moulds, filling-dosing Pump. 
Dough preparation is effected either by continuous, independent Mixer or by continuous Mixer integrated with the Sheeter. In both cases the machine is equipped with Centrifuge pre-mixer where the ingredients are mixed, enabling independent and continuous dosing of various kinds of flours, water, eggs and possible microdosage of liquids or powder ingredients.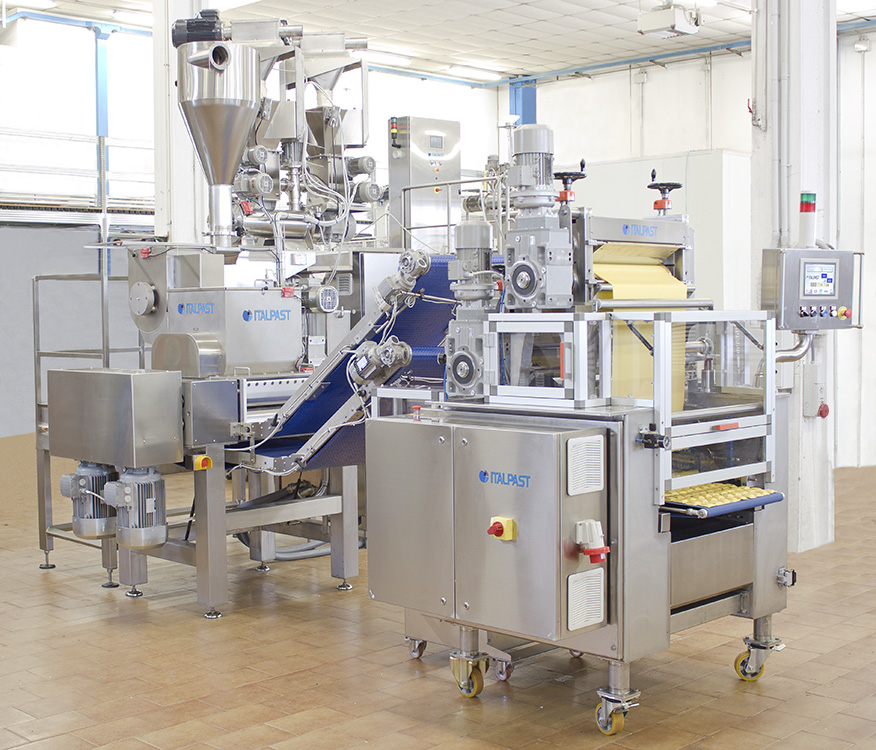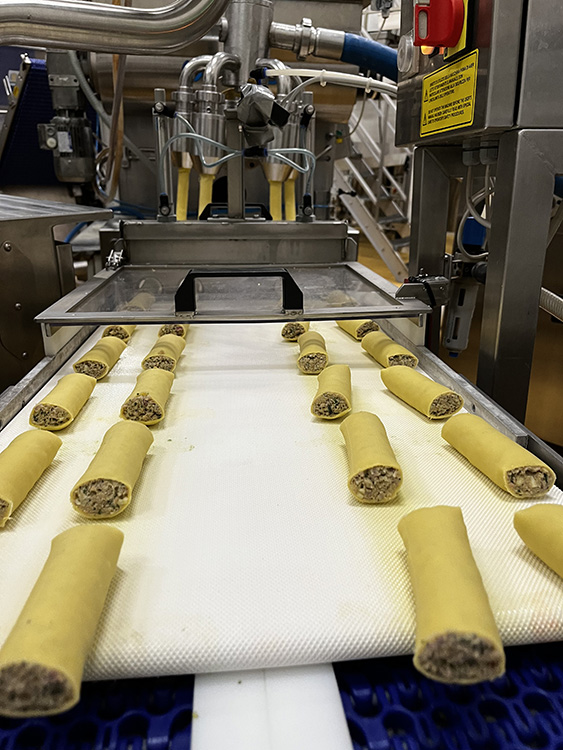 Sheet-pasta production is obtained thanks to a double-outfeed Sheeter running in direct coupling with the Ravioli machine thanks to conveyor belts. The Ravioli machine is equipped with sheet-pasta calibration groups, whose thickness is independently adjusted. The mould, fitted on an independent carriage, is put into the suitable loading device by an operator; a proper device takes it and automatically places it into the machine. The fully washable, patented moulds are made by rollers moulding and cutting the ravioli directly onto a special transfer belt. 
The control panels enables easy and intuitive check of the following phases: mould replacement, machine start, adjustment of the production parameters that can be stored in proper recipes, speed of calibration rollers, moulding strokes/ output, speed/quantity of filling dosage, time/delay of injectors blowing, coupling speed of waste recover cutting group.
Thermal treatment technologies
After production the next step is the choice of shelf-life and preservation of the product. A very widespread method ensuring longer shelf-life is deep-freezing: besides ensuring optimal stability the product freshness remains unaltered for a long time.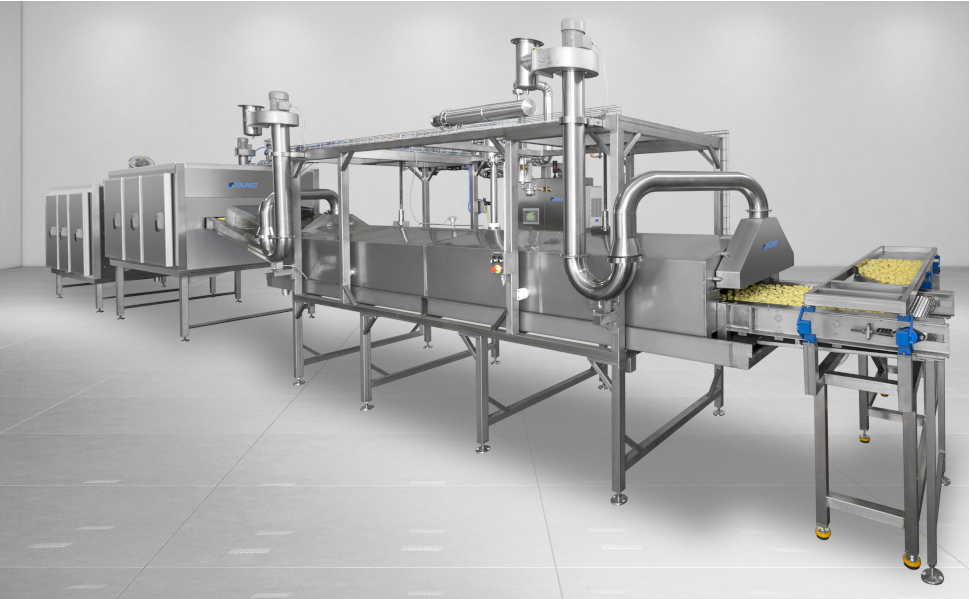 Description of machines and procedures for the thermal treatment of fresh pasta
After production the next step is the choice of shelf-life and preservation of the product. A very widespread method ensuring longer shelf-life is deep-freezing: besides ensuring optimal stability the product freshness remains unaltered for a long time. However, when speaking of fresh pasta we usually mean a limited, medium-preservation product, pasteurized and packaged in protected atmosphere (MAP / ATM).
 The hydro-thermal treatment technology for fresh pasta, which is required for eliminating or reducing to the minimum the proliferation of bacteria, that Italpast have developed in more than 30 years' activity and experience is certainly a guarantee.
Pasteurizers running by saturated or overheated steam supply steam in a uniform and direct way all over the product so as to reach the ideal treatment temperature, which changes depending on the time and temperature values set by the operator. Pasteurization by overheated steam enables to obtain relatively low humidity conditions, less damaging to the final quality of the product.
Pasta undergoes also a drying phase to reach cooling and stabilization before packaging. We have manufactured new, multiple-tier machinery featuring more belts for pasteurization and pre-drying of the product on more levels. The complete series of steam flux adjusting devices, which is controlled independently over and below the pasteurization belt, the micro-perforated distribution plates, the excellent insulation in rock wool, the care of construction details such as the exhaust caps and the washing basins: all this makes these models functional and reliable.
Cooling of pasta before packaging is another important phase in the fresh pasta treatment cycle, the more so shouldn't the product undergo any further stabilization treatments after packaging, such as the after-packaging pasteurization. Our company aims at lowering temperature in the shortest time possible, below a certain threshold of temperatures that are considered at high contamination risk (bacterial proliferation).
Our Coolers are customized, therefore width of belt, evaporators and refrigerants vary in relation to the spaces and to the available technical and technological specifications; there are different types depending on the time and on the minimum temperature to be reached to the product core, especially for filled pasta.
Our machines for fresh pasta
Pasta production Lines
Other plants for fresh pasta  
Contact us
Ask for an advice to our technical Experts to implement the most suitable line for your needs
Via G.B. della Chiesa, 10
43036 Fidenza (PR) – Italia
Strada Repubblica, 41
43121 Parma – Italia